Benedict Dellot of The RSA has recently authored a new report on the growing phenomenom of Maker Spaces. There's one near you…did you know?
The report defines MakerSpaces as '…open access workshops, hosting a variety of tools, from 3D printers and laser cutters through to sewing machines and soldering irons'.
These unique spaces attract hackers, roboticists, traditional engineering and technical enthusiasts, along with a variety of arts and craft specialists. There is something of a William Morris, Arts and Crafts revolutionary aspect to their public face. Offering as they do, spaces for making and experimentation in a collaborative and supportive atmosphere.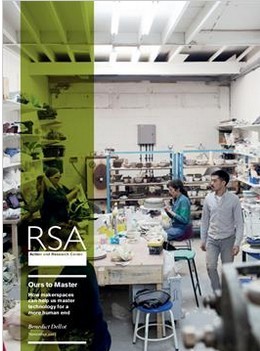 Morris would have it that you should '…have nothing in your house that you do not know to be useful, or believe to be beautiful'. Perhaps in the 21st Century, in a MakerSpace context, their motto should be '…beautiful, useful and technically collaborative'. (…great sign over every MakerSpace door?…Ed.)
As part of the RSA report (Ours to Master…)a survey finds that people, when asked, express an interest in Maker philosophy and practice, and would be interested in accessing such facilities. The survey found…
26 percent of people regularly make things for their own use, 49 percent fix things that are broken and 21 percent modify products to better suit their own needs
57 percent would like to learn how to make more things they and their families could use
61 percent would like to have a better understanding of how the things they use work
78 percent think our society is too materialistic and our economy too dependent on consumption
43 percent often feel confused by the pace of technological change and struggle to keep up
24 percent would be interested in using a makerspace in the future
You can read more about MakerSpaces on the pages of The RSA. here. (The report is freely accessible to all).
Maker Spaces in the East of England?
'Ipswich Makerspace is a Suffolk based group of like minded makers who get together to learn, build and experiment with a huge variety of hardware, software, and technology in general'.      (Source: Ipswich Makerspace, December 2015)   See more here.

'Chelmsford Makerspace is a non-profit, community of makers in Chelmsford. We are a group of makers and hackers that get together to share tools and knowledge'. (Source: Chelmsford Makerspace, December 2015). See more here…
'We are developing a maker workshop offering affordable access to basic equipment such as workbenches, pillar drills, soldering irons, sewing machines and saws etc'. (Source: Colchester Makerspace, December 2015). See more here…
'Makespace is a community workshop in Cambridge for making and fixing things, meeting people, working on projects and sharing skills'. (Source: Cambridge Makespace, Decembre 2015). See more here…
'Hitchin Hackspace is a community organisation devoted to providing everyone with a place to explore all kinds of creative technologies and crafts'. (Source: Hitchin Hacspace, December 2015). See more here…
---
Thank you to Benedict Dellot for another interesting and cutting edge report. It is interesting to see old concepts of craft and sharing being developed in contemporary communities, to deliver accessible, technology related products and learning. 'Social engineering' in its purest form perhaps?
We are surprised, in our brief survey of MakerSpaces in the East, to find no representative group for Norwich. If you know of one, use our contact form and let us know. We'll run a supplementary piece to spread the word about them, if we missed an opportunity to do so here. Happy making! Ed.

Why not visit our other site pages whilst you're here...